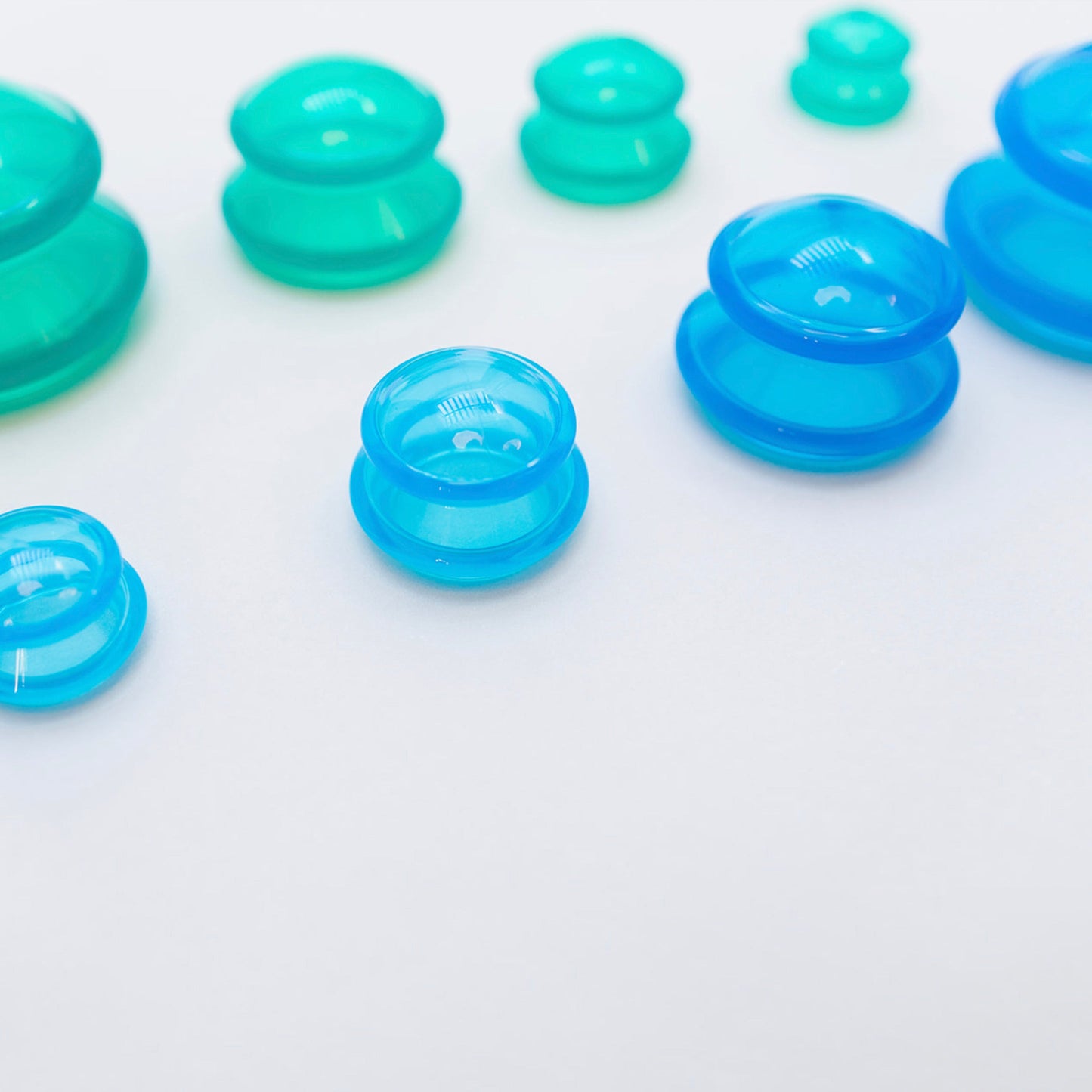 Let's talk about musculature, the arrangement of muscles in the body. The fascia, deep connective lines that run throughout our bodies, hold the muscles and structural patterns in place. Think poor posture due to desk work or repetitive movements of unbalanced/repetitive sports, traumas due to accidents, injuries or emotional unrest. The fascia is the matrix that holds everything together. Cupping can be effectively used to remodel fascia that has been cluttered and blocked. It's powerful stuff! 
Body cupping helps invigorate tissues, by clearing and lifting old metabolites from muscles. This stimulates blood flow and movement patterns. It helps untangle things your body is holding onto that are no longer conducive or necessary. The pliable silicone cups allow decompression, regeneration of circulation and blood flow. It increases the range of motion, increases mobility and supports freer movement patterns. Body cupping can also decrease pain. 
You can have body cupping performed by a qualified practitioner or do it yourself. Having it done on you can be a very calming experience, where you can find peace and deep relaxation. But learning how to do it can be even more powerful, as daily practice is possible. You'll notice your changing tension patterns. Changes and restrictions become obvious. Adjusting pressure to align with your sensitivity (which can change day to day) is fantastic for stubborn, ongoing aches and pains. 
Many people wonder if body cupping is uncomfortable or hurts. Typical reactions to cupping could include colour changes beneath the skin's surface. Petechiae, minor discoloration due to broken blood vessels, is an acceptable and expected response post-cupping. If you use a stationary cupping technique, leaving the cup in one place for some time, dark circles can and will likely appear. This is normal and healthy. The colour changes that arise can vary from redness to purple/black. Darker marks take longer to clear up, usually no longer than five days. Cupping should not be painful. Slow movements with running cups and ample oil allow the cups to move freely and be less intense. Depending on sensitivity, it can seem a bit unusual or uncomfortable simply because it's new to you.
Chinese Medicine believes that both physical and emotional imbalance can be held as pain or tension in various body areas. This is where cupping comes in to remodel fascia and break up adhesions in the body. Many people find the technique quite meditative. Honestly, body cupping is the perfect tool to melt tension away from your body and a game-changer for your post-workout recovery. It's also easy to work into your home set-up because they are small, light and ready for you whenever you like.